Many have pondered when the world will return to "normal" since the coronavirus pandemic began. But it's uncertain whether things will ever return to the way they were: remote working, for example, appears to be here to stay, and going to the movies may never be as popular as it once was.
​
As Business Process Outsourcing Services start to pick up in Malaysia, competition for BPO is intense in Asia-Pacific. While India and China have dominated the market for a long time, Malaysia ranked third on AT Kearney's 2019Global Services Location Index (GSLI),an annual ranking of BPO and IT outsourcing destinations. If you wonder what and how is the talent market is evolving for BPO in Malaysia, we prepared a quick snapshot for you:
Download Whitepaper here
​Talent Market Report BPO Industry - Malaysia
​
Key Areas of Consideration
​
Increased skills deficits especially in Data Analytics, Automation, Innovative Thinking, Functional Expertise and Digital Competencies

Productivity improvement challenges

Limited availability of multilingual candidates with closed borders in Malaysia and Requirements for release letters from current employers.

Longer timelines for foreign hiring with requirements such as advertising in MyFutureJobs
​
Talent Demand Update
​
ManpowerGroup's recent Talent Shortage Survey found that 69% of employers globally – a 15-year high – are reporting difficulties hiring skilled workers. Competition for talent is heating up and companies increasingly need help in finding and reskilling talent for their fast-changing needs.
​
As tech disruption accelerates employers are looking for the right blend of technical skills and human strengths. The top global roles in demand globally are Operations & Logistics, Manufacturing & Production, Sales & Marketing, IT & Data and Administration.
​
In Malaysia specifically we are seeing a similar trend. What is interesting for BPO sector is that one the highest roles in terms of demand growth in 2021 compared to 2020 is Content Moderation. In addition Call Centre and Tele Marketing roles also experienced significant demand increase in 2021.
​
​​
BPO Dilemma
​
Feedback from BPOs and Shared Service Centres in Malaysia communicate important skills gaps. These shortages are combined of hard skills such as Data Analytics, IT, and Functional expertise, and soft skills such as Innovative Thinking, Leadership, General Business Acumen and Communication. This reality combined with constant pressure to improve organizational productivity, poses a dilemma in how to drive productivity improvement methods.
​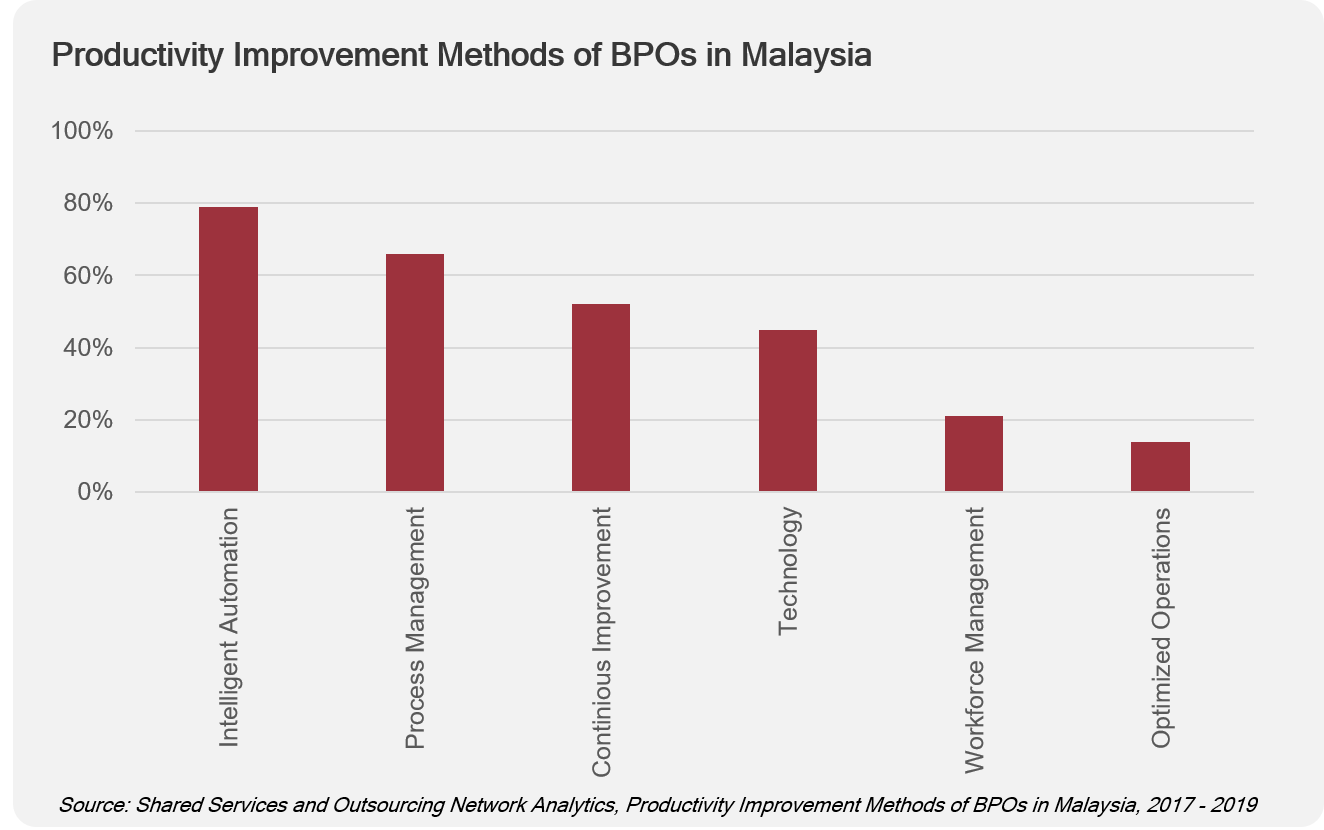 ​
BPO Talent Preferences
​
The top 3 considerations candidates in Malaysia look for when considering working for a BPO are Salary, Career Development and Job Security. However, it is important to dive deeper into specific needs and expectations under each factor.
​
Interestingly, unlike average Malaysian candidates, Work-Life Balance is not one of the top 3 priorities for BPO talent, but Job Security is.
​​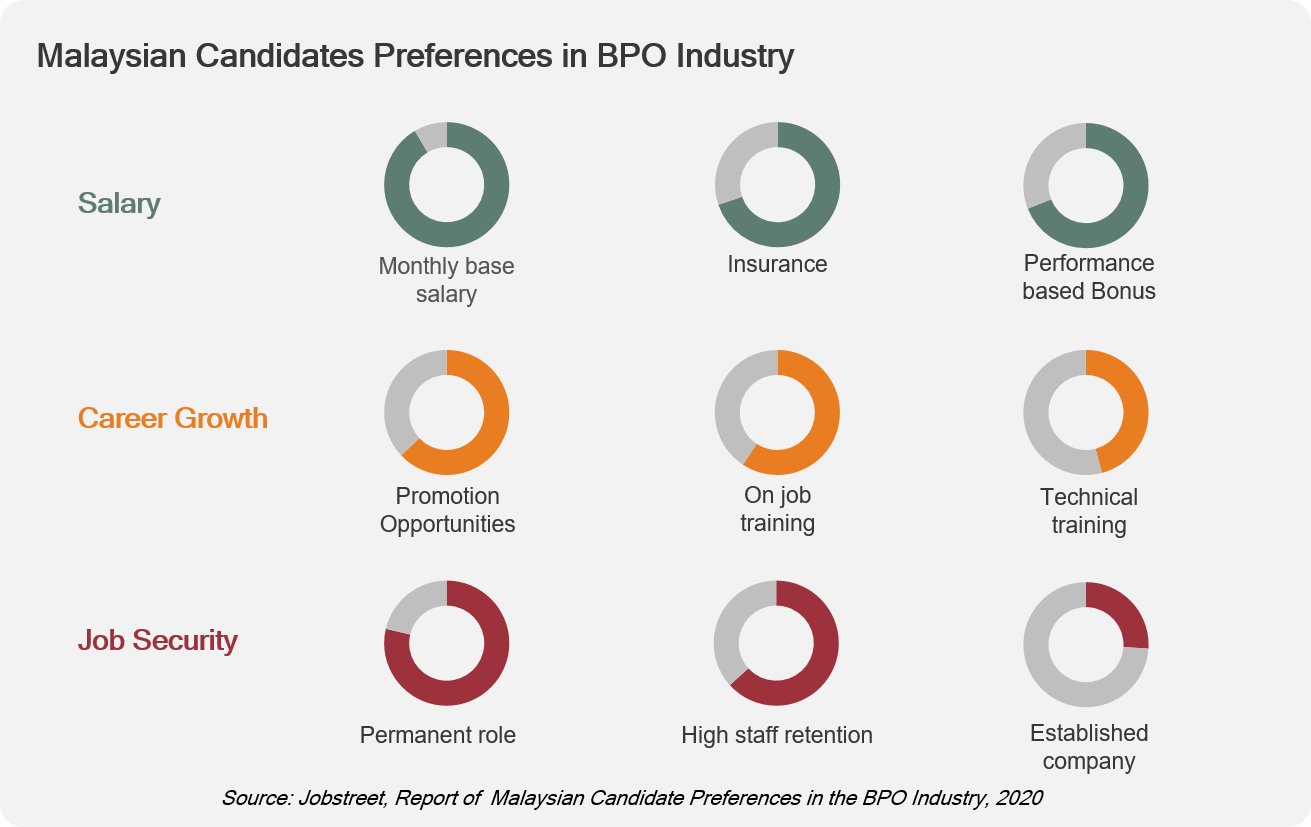 ​
Download Whitepaper Here
​Talent Market Report BPO Industry - Malaysia
​
Get the BPO Market Snapshot to explore key questions that may help your company save costs and align with business strategies:
​
​
​
​