​A Practical Guide to Safe Restart: Best Practices for Organizations
​
Given the desire to move quickly, the HR administration industry has shaped an Alliance initiated by Randstad NV, the Adecco Group, and ManpowerGroup. Together, the business – as the world's biggest private area business and work market expert* – tries to make an indispensable commitment to the way toward getting ready for the new normal, and assist getting individuals securely back to work and organizations and economies running once more. Bosses, exchange associations, and NGOs will all be welcome to team up. At the equivalent time, the coalition will connect with governments to help, animate, and support these efforts.
​
This practical guide is designed to summarize the extensive technical guidance drafted by the Alliance to support business recovery and operational continuity efforts around the world.
​
You can download the report here:
A Practical Guide to a Safe Restart
​
Practical guidance and good practice
​
In Malaysia, some of the states and areas (W.P. KUALA LUMPUR, W.P. PUTRAJAYA, SELANGOR, KEDAH, PENANG, PERAK, NEGERI SEMBILAN, MELAKA, JOHOR & TERENGGANU) are experiencing Conditional Movement Control Order (CMCO) from 9 November 2020 (from 12.01 am) until 6 December 2020 (11.59 pm). However, a chain of economic and industrial activities still are allowed during CMCO.
​
As a first step, where organizations have an existing health and safety function, they will play a pivotal role as they adapt existing health and wellbeing measures – and define new controls – to address the emerging challenges of COVID-19. More than ever, it is important that senior management engages early with these specialists to brief them on the company's objectives, strategy, and re-opening timetable so both health and business responses are joined-up and coordinated.
​
In the absence of a health and safety function, the following guide will help managers review the major issues. They can be assured that many of the measures highlighted below, which are designed to avoid the spread of COVID-19 in the workplace, are fit for purpose. Many of the activities continue to form the basis of the pandemic response in key businesses that were permitted to operate throughout the initial outbreak and lockdown.
​
1) Avoiding the health hazard' in the workplace.
​
Where remote working has proved possible, successful, and productive, organizations should consider extending this approach to lighten the pressures on transport, services and to drive social impact in communities, where more onsite working maybe required by other organizations.
​
2) Communicating internally and externally is critically important.
​
As a rule, people will be hungry for information insight, and advice, so over- rather than under-communicate. Select the most appropriate channels and tools to communicate on topics that are health-related, address behavioural expectations, and inform on regulations.
The measures to communicate range from online training on worker safety and health, posters on handwashing and other critical hygiene rules, (physically distanced) face-to-face or video briefing on the need for shift patterns and teams to change; internal newsletters on health-related updates, rules, and regulations.
​
3) Provision of sufficient quantities of appropriate Personal Protective Equipment and sanitary products/facilities.
​
Organizations define their own standards of protection and are responsible for compliance with local or national government rules, like providing the correct PPE and sanitizers before re-starting operations. These items are in extremely high demand and are normally 'consumables' intended for a one-off use, so the business will want to assure a continuing supply of this equipment.
​
4) Physical distancing.
​
Establish and apply a rule of physical distancing that conforms to government requirements. Support compliance via communications (as above) and with physical markers on floors, walls, work areas, and chevrons in walkways – all as a reminder of the physical distancing rules.
For example, defining breaks and meal times for certain departments or shifts, and limiting time spent in the canteen, while extending the overall time during which food will be served will eliminate 'busy times' and facilitate physical distancing.
​
5) Physical barriers to reduce infection.
​
In addition to physical distancing, physical barriers to reduce or prevent the spread of the virus are vital. They are equally important for the smooth running of the business by reducing absenteeism through ill-health. But it's crucial that a company is seen to be first and foremost focused on preventing the risk of virus transmission, and secondary to business considerations, to avoid any criticism that business comes before health.
In terms of specifics, physical barriers like transparent screens and taped-off areas to separate personnel from each other and from customers are all helpful.
​
​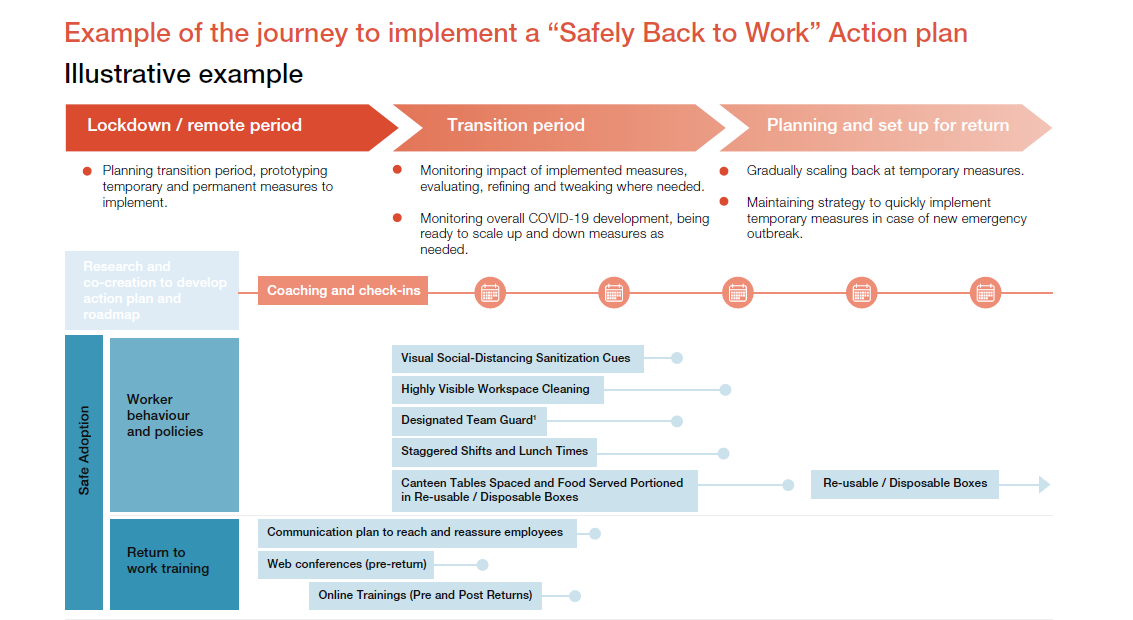 ​
While governments define the country-wide preconditions for progressively lifting their lockdowns or movement orders, businesses, their staff, contractors, employee representatives, health and safety experts, and regulators are expected to put in place practical protocols to support the safe reopening of businesses and economies worldwide.
​
The transition from a life-saving response to regenerating the economy is rapid, dynamic, and unprecedented. This guide is therefore intended to share the lessons that have already been learned and to provide practical guidance on managing a sustainable restart for businesses around the world.
​
In light of this, read our guide A Practical Guide to a Safe Restart: Best Practices for Organizations intended to share the lessons that have already been learned and to provide practical guidance on managing a sustainable restart for businesses around the world.
​​
​​
​To support you ManpowerGroup Malaysia is open for free consultations on your workforce needs and for developing custom workforce solutions at a competitive rate. Fill up the form below and our consultants will reach out to you with a free consultation within 24 hours.
​
​
​
​
​
​
​
​13 Nov 2020
Posted by:
Nadhirah Afiqah- Marketing Assistant