​What Workers Around The World Want? [Malaysian Trends Included]
​
If you are a Talent Leader, you must have come across articles titled something like "War for Talent Is Raging", or "How to Survive in a Tight Talent Market". With talent shortages around the world, and in APAC region specifically, it is becoming more and more difficult for you to attract and retain the right talent.
​
What Workers Want?
Pay Always Matters

Personalization

Variety is the Spice of Work Life

Flexibility and Well-being Combined
​
In our Talent Shortage Survey 2018, 56% of companies in APAC say they can't find the skills they need.
​
Automation and digitization are increasingly creating new jobs and it is becoming ever more important for employers to know what workers need to attract and retain top talent.
​
To find out What Workers Want, we surveyed 14,000 individuals across 15 countries to understand what attracts them to an organization, what keeps them there and how that varies by geography, gender and at different stages of their career.
​
The findings helped us realize that workers have their own hierarchy of needs.
​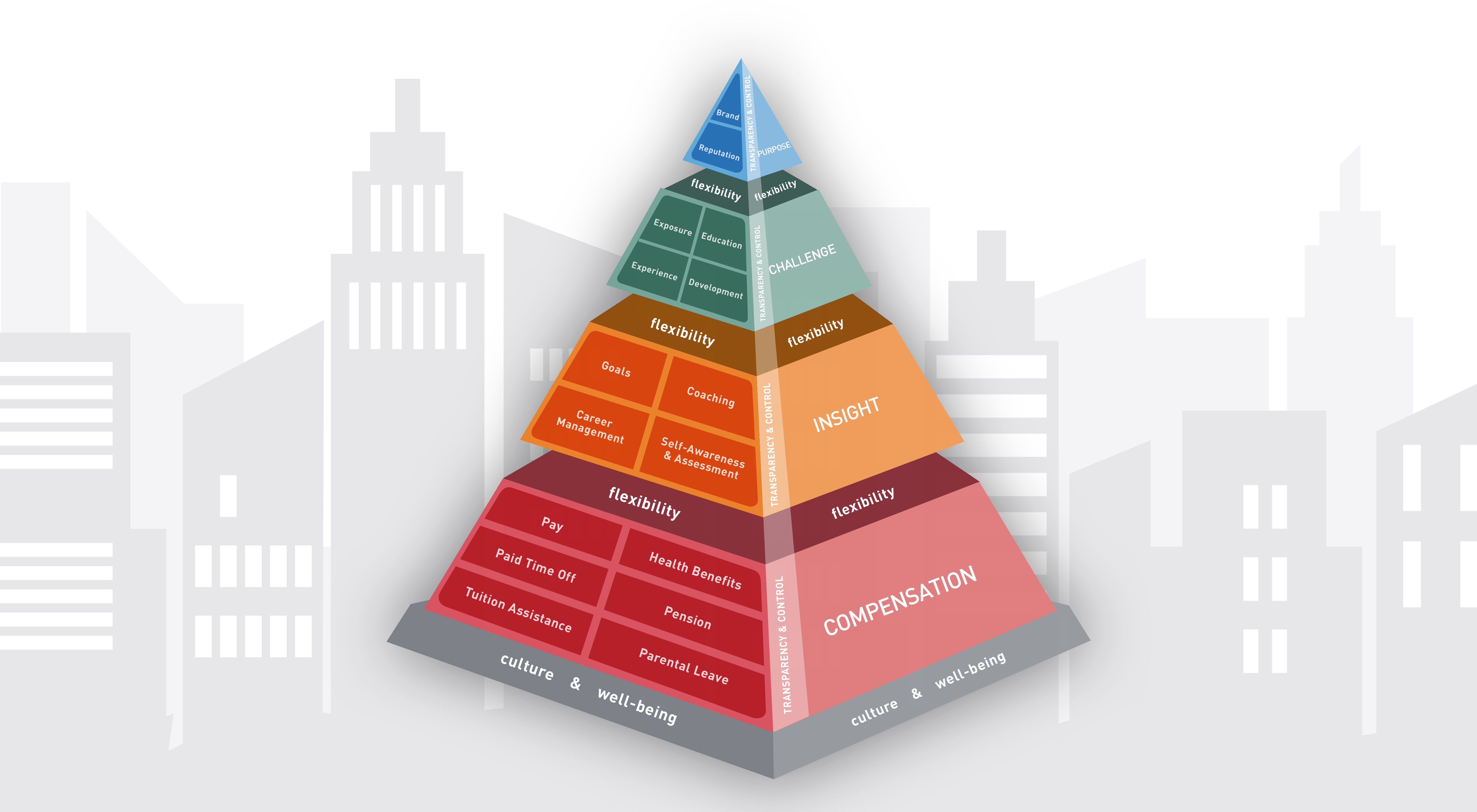 ​
1. No Spoiler Alert Necessary: Pay Always Matters – But How It's Delivered Matters More
​
Pay is the top attraction and retention factor for all workers regardless of gender and age.
​
Globally wages are growing half as quickly as they were 10 years ago especially for lower earners. In Malaysia for example the average salary is around RM3,000 and average salary increase for 2020 is predicted to be 2.9% after inflation.
​
Averages can of course be deceiving. Globally skills matter: workers with in-demand skills – cybersecurity, cloud computing, front end developers, solutions architects, healthcare and more – have seen salary increases of over 10% in the same time period.
​
Companies have to get creative to enhance compensation beyond cash to differentiate and attract talent. Popcorn and ping pong are not the answer.
​
Think personalization: autonomous working and flexibility, parental leave and unlimited time-off/unplug policies to cultivate sought after well-being and improved lifestyle.
​
Add attractive financial incentives and goodwill gestures that reward loyalty, learning and development like tuition reimbursement and student loan repayments – companies will be more likely to attract and retain the best talent.
​
2. Workers Want Personalization: People Strategy Must Be Both a Science and an Art
​
In an increasingly data driven world where algorithms in fridges know what items are missing and AI is suggesting you buy them, people expect the same from work.
​
They want assignments that test their abilities, projects that demand the best from them and recommendations on the next role.
​
They want insight and advice on fit today and potential tomorrow. This is where assessment comes in – critical for understanding human potential.
​
It allow you to better match and motivate people while helping individuals to get to know even more about themselves. Assessment can remove bias and over-reliance on Applicant Tracking Systems (ATS) that automatically filter suitable candidates out.
​
You will be able to fish from a more diverse talent pool, selecting people not on past experience but on the basis of future potential.
​
Like all consumers, workers also want a great user experience. They want personalized insight to understand their strengths and potential – as personalized as their Amazon Prime.
​
For this they need assessment short, gamified and scientifically validated and they expect something in exchange for their data. They want career conversations and coaching to set goals, manage their development and control their career.
​
Ask yourself, when was the last time you had a career conversation with your employees?
​
When only 49% of workers globally have been assessed, it really is time to let the data do the talking – 81% of those who have been assessed report higher job satisfaction versus 65% of those who have not.
​
So if you are considering an assessment tool, here is useful article from SHRM that will get you started with the basics of pre-employment testing.
​
3. Variety is the Spice of Work Life: Workers Want Education, Experience, Exposure
​
Challenge is a top five priority for workers of all ages and means a multitude of things.
​
Education and training, yes, but more than that: stretch opportunities; rotational assignments; on-the-job learning and apprenticeships; stimulating projects and agile work across various teams and functions; applying fresh skills in new roles; thinking harder; feeling more tested; being on a clear career pathway from this job to next.
​
In Malaysia, it was reported that 1 out 3 job seekers are looking to switch their career due to lack of growth opportunities in their current industry.
​
Your people want portfolio work that offers variety, broadens their experience and builds knowledge and skills. They want the opportunity to develop and to earn more. They are realizing they need a long shelf life in this fast-changing, career-marathon world of work.
​
To deliver challenge and opportunities so people succeed and stick around, you got to understand skills, potential and desires. With assessment, insight and a culture of learnability you can coach individuals so they thrive in a supportive environment.
​
A sink-or-swim approach, without support, can result in procrastination paralysis or even burnout. The eager entry-level graduate seeking stretch will need different support compared to the mid-career emerging leader.
​
As a leader, seek coaching skills. They will help you guide people to choreograph career conversations that pace their own career mobility, embrace new experiences and welcome the exposure that drives personal and business success.
​
4. Flexibility and Well-being Combined Are Priceless: Productivity Beats Presenteeism
​
Workers are prioritizing balance and choice and it's non-negotiable. Your people want to choose where, when and how they work, and that doesn't mean millennials logging on in coffee shops.
​
They want the social aspect of work with the flexibility to accommodate the demands of One Life, the sharing of caring and the desire to boost their well-being.
​
It was found that 75% of Malaysian mothers quit their jobs due to a lack of flexibility.
​
People want flexibility — and that means all things to all women and men so you might want to consider loosen up. Nontraditional work hours with flexible start and end times that counter the rush hour and control the commute.
​
Work from Home (WFH) and Work from Wherever (WFW). Time to hustle and enjoy side gigs to nurture entrepreneurialism and boost pensions.
​
Condensed four-day work weeks or five-hour workdays that peak productivity and preserve the weekend, and parental leave that balance family and care and can be worth more than pay.
​
To tap the whole talent pool and retain a well workforce, employers must strike the balance of flexibility and reward productivity over presenteeism.
​
Your company culture must promote it and leaders must model it and the consequence of workplace equality may well kick in too as a result. Happiness off the job can be key to happiness on the job.
​
You can certainly see that skills needs and job roles are changing faster than ever. The defining challenge of our time continues to be the "Skills Revolution".
​
Even though our world is enabled by technology, people are in demand. You need to know what workers want if you want to find, build and sustain the best talent while others are trying to do the same.
​
Shift your workforce demands closer to match the needs and desires of in-demand talent and expand the pool from which you source that talent.
​
Read more on specific generational needs here:
​
​
​
​
​
To get the full whitepaper on workers needs, fill the form below:
​
​
​
​​
​